I want to introduce you to a FREE online service that could radically change the chore challenge in your home. 
It is called MyJobChart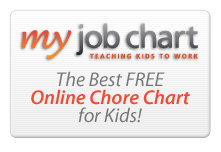 It is a COMPLETELY FREE service that allows you and your children to keep track of their chores.
The way it works is you:
1.  Upload a picture or avatar of your child
2.  Set up their jobs and point value (the site helps set the amount for you).
3.  Choose a reward that your child may receive when they reach a certain threshold of points.
4. Once it is all set up your child can login and complete which tasks they have done for the day.  Here is what Isaac's dashboard looks like.
5.  After Isaac logs in he puts a checkmark next to each job he did.  Then I am sent an email to approve the jobs.
6.  Once I approve them points are added to his account.
7.  Once he reaches a certain threshold (that you have set) he may use his points to cash in for prizes from Amazon.  This part you do have to pay for.  They can also save them or use them as share rewards that you set as well
With today's tech savvy kids I think this is an amazing resource.  My 4 year old thinks it is pretty cool so far.  We still have to walk him through it a bit but it keeps me accountable for having a system.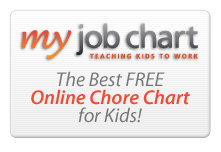 Are you frustrated by chores in your home?  Have you found a system that works for you?  I would love to hear about i.