I was perfectly content with the end table I had in Kayla's room.   I had found it at a yard sale for $5 a couple of years back when I was preparing for Kayla's arrival.   I painted it, changed out the knob and distressed it a little.
However, I have fallen in love with French Provincial furniture. I love the girly handles and the slight curves of the frame. When I found this one for $5 at a yard sale I had to bring it home.
Despite the fact that is was green I just loved the sweet curves and adorable pull and knew it must replace the table in her room.
I lightly sanded everything down fixing some of the dings and dents. Then I spray primed and spray painted it Blossom White by Rustoleum.
After reading Mandie's e-book and learning how she distressed furniture I was able to use way less sandpaper and have more control over the distressing.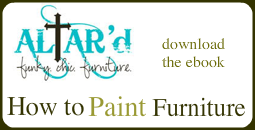 I just highlighted all the edges by distressing slightly.
Of course I had to do my little trick by Mod Podging fabric inside the drawer. (Click here to see the tutorial).
It just makes it look cleaner and gives a little love to the inside of the drawer.
Can you believe I actually kept the drawer pulls as is? Yah, I know…never happens.
It was meant to be. It looks perfect in that space. Once her room is transitioned to a big girl room it will be the perfect nightstand next to her new twin bed. Not that I am planning her big girl room in my head already! 😉