Welcome back to the Pennywise Presents series.  Amy is here with a free printable to give a potted herb plant a little pizzazz. 
I noticed she used Rosemary so if you decided to give this gift you have to check out Jo's Rosemary Bread recipe.
I use fresh rosemary in it and it is so yum with any italian dish. You can even attach the recipe. 
The possibilities are endless and this is a great gift for the cooks in your life.
Hello, everyone! My name is Amy, and my blogging home is called Positively Splendid.
When I'm not chasing after my four little ones, you'll usually find me knee-deep in my latest creative endeavor.
Having grown up in a home brimming with sewing notions and paintbrushes, I have a profound love for all things creative, and I firmly believe each and every person has the ability to create something beautiful with their own two hands!
On any given day at PS, you'll find ideas ranging from sewing and crafts to home decor and DIY projects, and even some recipes and kid-friendly ideas thrown into the mix. I would love for you to stop in for a visit!
Infarrantly Creative's Pennywise Presents series is one of my perennial favorites for inexpensive, unique gift ideas!
I am thrilled to be here today to share a quick and easy idea for dressing up a simple potted herb to create a functional, flavorful gift.
Inevitably during the holidays, I always wind up needing a very last-minute gift to take to a dinner party, or something to give to a neighbor or a teacher at a moment's notice.
This gift idea is one that is perfect for such instances! By sprucing up a potted herb (I found mine in the produce section at Publix) with a bit of burlap and a cute decorative label, you can have this flavorful gift ready to go in 15 minutes or less.
Let me show you how easy these little guys are to put together!
To start, cut a circle of burlap with a diameter that measures approximately 3 times the bottom width of the herb's container. Wrap the burlap around the base of the plant, and secure with a string of baker's twine.
Now, make the decorative "stake" to finish things off. To do so, print the round gift tags (available for download below) onto white cardstock, and use either scissors or a 2-inch round circle punch to cut out one of the labels.
The labels look perfectly nice in their own right, but to add some pizzazz, make an accordion-fold paper medallion (click here for detailed step-by-step for how to do so) with two 1.5″ strips of paper.
Adhere your punched-out label to the center front of the medallion, and then use hot glue to affix a small wooden skewer or a lollipop stick to the back, as shown.
Tuck your finished stake into your pot, and, voila! An instant, unique gift to pass along to someone special on your list!
To download the tags for this project, click on the arrow at the bottom of the box below. If you are enjoying this post in a reader or via email subscription, you will need to visit the blog in order to grab the download. Please be considerate when using these tags and remember that they are intended for personal use only. Thank you!
I invite you to stop by Positively Splendid to check out my two fun holiday events currently in progress:
A Swell Noël, which features innovative ideas to make this your best handmade holiday ever…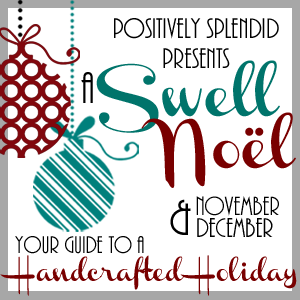 …and the Handmade Holiday Gift Idea Swap, an event to help simplify your handmade holiday gift-giving by giving you a place to share and exchange some of the best gift ideas around all in one convenient spot!
Thanks so much to Beckie for having me over today. Wishing each of you a blessed, magical holiday season!