The grand prize of a Silhouette machine is:
Julie (jaecarson@xxx.com)
I know you can use 28 other codes to order your Cyber Monday Silhouette Deal.  But if you want to use "IHEARTIC" you will receive a 4 pack of cupcake magnets as an IC thank you.  Just email me to let me know you used my code and I will send you your free gift.
This Cyber Monday Deal also includes:
1 Roll of Cream vinyl ( $7.99)
1 Roll of transfer paper ( $7.99)
1 Home decor CD (Value $55)
Total ($70.98)
All for ONLY $199!!
That's almost $200 dollar in savings! Wahoo! Click below to shop!
————————————————————————-
The 3 winners of Mandie's (from Altar'd) e-book is:
Alyssa (thecleverpenguin@xxx.com)
Carolyn (grdngrrl@xxx.com)
Gina (gina.arkell@xxx.com)
————————————————————————-
The winner of the Mint Cleaner Blog Hop is:
Fishy People
————————————————————————-
Winner you must email me. at infarrantlycreaitve@gmail.com. If you don't claim your prize within 72 hours I will pick a new winner.
This week I got to participate in Stephanie's Handmade Ornaments series.  There were 23 other talented bloggers.  They are some beauties for sure.  Go check out Stephanie's house for some ornament inspiration.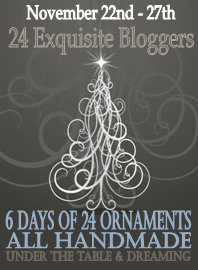 We will continue on with our Pennywise Presents post this week.  I hope all of my new followers will stick around for some crafty gift idea inspiration.