Sponsored By:
Cheerios ® is giving you the chance to win a once-in-a-lifetime opportunity, your ultimate family vacation. As part of a paid promotion for their "Do What You Love" Sweepstakes, Cheerios ® is sponsoring my post today about what my ultimate family vacation would be. Read mine and Enter the Sweepstakes for a chance to actually win your own fantasy family trip or one of a bunch of other great prizes.
What is my ultimate vacation?  Now if you ask me what my ultimate family trip is my answer would be different.  Vacation to me is consists of a few R's: rest, relaxation, and rejuvenation.  It also contains no rules, responsibility, or my rascals.  I love my kids dearly.  But taking them with is called a "family trip" not a vacation.  There is a time and a place for both for sure and we make sure to do both yearly.
My ultimate vacation would probably include my husband, myself and our closest friends (or maybe my favorite cousins) on an 18 day Mediterranean Cruise. Of course we would not have an interior stateroom like we usually do, but rather we would be upgraded to a balcony suite. We wouldn't need to fly to get there we would be teleported there..no delayed flights or jet lag.  They said they wanted my ultimate vacation…so I can include impossibilities, right?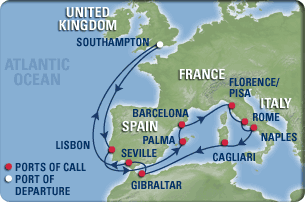 Spain, Italy, France, England, and Portugal please.  Just to say I have experienced a little bit of their cultures would be amazing.  This would probably cost around $15,000 to do.  So yes…it is in my dreams. 🙂
Don't forget to enter the "Do What You Love" Sweepstakes, for a chance to win your own ultimate family vacation. I was selected for this sponsorship by the Clever Girls Collective, which endorses Blog With Integrity, as I do.