This giveaway is now closed!
I can't tell you how excited I am to offer one of my readers a HUUUUUGE gift.  The ladies at  HowDoesShe? and Silhouette have offered me a Silhouette machine to try for myself.  In addition they want to offer one of my readers a machine. HOLLLA!!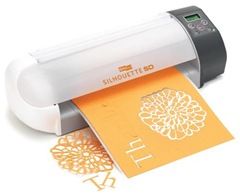 So I have spent the last week learning all the fabulous things this baby can do.  This tool is an all-inclusive powerhouse tool people!
2.  It cuts any sort of paper or cardstock which is nice for cards and scrapbooking.
3.  You can bling out your apparel with some rhinestones.  Look at that matching card with rhinestones.  So cute!
4.  You can also use the heat transfer tool to make custom t-shirts, pillows, totes, etc.
Silhouette will also be giving one Infarrantly Creative Reader a Silhouette of their very own (a $299.99 value)!
This Giveaway includes…
Silhouette machine
Software for Windows XP/Vista
Power cable, USB cable
2 Cutting mats (one for thick media, one for thin media)
One cutting blade
$10 gift card to the Silhouette Online Store
To enter the giveaway you need to check out Silhouette and all amazing things this machine can do. Then come back here and leave a comment telling me what your favorite Silhouette function is.
 
For additional entries:
1. Become a follower of Infarrantly Creative and tell me in the comments.
2. Blog about it with a link back to this post, then come back and leave a comment with the link.
3. Mention it on Twitter or Facebook, with a link to this post, and then come back and let me know.
*This giveaway is only open to those living within the United States and will close on Saturday, August 7th, 2010 at 11:59 pm PT.
Silhouette is also running some killer deals right now for Infarrantly Creative Readers. Please use the discount code "CREATIVE" for the deals to be applied to your order.
 
1) AWESOME PROMO (running from August 1st through August 9th at midnight)
Buy a machine and receive the following:
– $50 off the Silhouette Craft Cutter
– 2 rolls of vinyl (Valued at $15.98)
– 1 roll of transfer tape (Valued at $7.99)
– Scraper (Valued at $6.99)
РHome D̩cor CD (Valued at $50)
– $10 Gift Card to the Silhouette Download Store
– Cutting Blade
– 2 Cutting Mats
All for $249.99
A Savings of $130.96
Just think of how much you'll save on gift giving this year!
2) GOOD PROMO (running from August 9th through August 14th at midnight)
Buy a machine and receive the following:
$50 off (receive for $249.99)
2 rolls of Heat transfer ($29.89 value)
$10 Gift Card to the Silhouette Download Store
Cutting Blade
2 Cutting Mats
All for $249.99
A savings of $79.98
Silhouette also has a blog that gives you tips, tricks, free downloads and inspiration to use with your Silhouette machine!
I have got a few Silhouette projects I will be showing you this week. Thank you Silhouette for sponsoring this amazing giveaway!