Have you checked out the finalists for the "Crafting with the Stars" contest on Sew Dang Cute?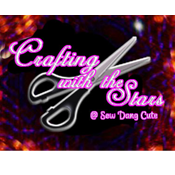 I have been matched up with Michele from The Scrap Shoppe.
She entered her button necklace into the contest and won the approval of the judges.
Week 1 is Brand Inspired/Knock Off week.  All projects are in and now is the time to vote.  What an incredibly talented group of women!!! 
The best part about this contest is that this will not be a popularity contest because the projects will be posted anonymously.  So make sure to vote and send your favorite project through to the next round!
Meanwhile I want to introduce you to Michele by way of some of her fun projects.
ABC's Banner
 So go ROCK THE VOTE crafty ones!