Hello peeeeeeps! Are you ready for tomorrow's big Roadkill Rescue party? I have been behind on my project and the paint is drying right now. Yikes! But rest assured it will be ready for tomorrow.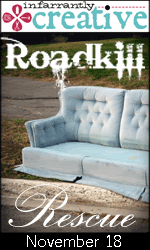 I wanted to give you a little incentive to get your projects done and linked up. Are you ready to hear about the uber cool prize pack for one lucky winner?
1. The Pretty Messy Flower Headband from Joy's Hope. I own this baby and I LOVES IT. My friends all joke that they can tell when I am having a bad hair day because I just stick that headband on and I look cute. Dang it, and I thought it was my secret! Thanks Julie!

2. The Jess bag from Shabby Shebus — everyone WOman needs a great purse. I especially love big bags that you can stick everything into. I am a mom and need a mom bag. This fits the bill and it is cute to boot! Thanks Jess!
3. Bonheur Necklace from Yours Truly — because you will be the belle of the ball, or at least the office Christmas party wearing this baby!

4. I am utterly in love with paper beads right now. And Janice Mae from Aubrey's Beads/Janice Mae Etsy has some seriously delicious jewelry. I own this pair of threader earrings and I wear them all the time. You can make them longer or shorter by pulling the chain through your ear. They are unique and fun!
Worth participating? I think so! I will have Mr. Linky up at 10 a.m. EST! See you tomorrow! Click here to learn more about the party.