For those of you that missed it, I found another Roadkill Rescue project. This time it was a vintage television laying curbside begging for a second life.   It was destined for the dump, so the night before trash day I hauled it home. I had a big vision of this becoming a console table for my entryway. If you missed yesterday's post you have to go back to see where we left off.
So I left you yesterday and teased you with a cabinet cut in half.   It was stabilized and ready to take on a new life.
Since the inside was so jacked up with glue and other stuff I decided to line it with 1/4" luan I had in my garage.   That would cover up the imperfections.   So with a jigsaw I cut my pieces to fit.
It looks much cleaner now.   Next I cut some MDF (also in my garage) and made shelf supports.
Then I caulked all the seams so everything would look tidy.
I had some leftover shelving (from some closet space I redid) and I cut a board to size to make a shelf to fit inside.   I also had some leftover backer board from my Aqua Armoire and I cut a new backing as well.
Lastly I puttied up some blemishes with wood filler and filled the two holes on the bottom center where the old hardware went.   The "drawers" on the bottom are just for looks.   They actually do not open. I then redrilled a centered hole for some new hardware.
Since it isn't solid wood I used the Zinnser BIN Ultimate Cover Primer that is made for laminates and plastics and gave it a coat.
Then with my air sprayer I painted it Lake Champlain by Dutch Boy.   I love how the Dutch Boy paints spray.   No thinning required.   (I promise I will do a post on my paint sprayer soon.   I get asked questions daily about it.)
So after reading the e-book from Altar'd on painting furniture I decided to try Mandi's way of glazing.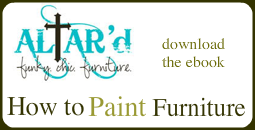 It looks so much better than the glaze and wipe off method I had been doing.   My glazing always looked streaky to me.   Her method gives a nice marbled look that I think looks more natural. I also tried a black glaze instead of the normal brown I use. I used Ralph Lauren's glaze with some black paint. I love how the black pairs with this turquoise color.
Then I used some metal primer and Krylon's Oil Rubbed Bronze Spray Paint to give some simple, old knobs a new look.
Then I placed it in my hallway to serve as a console table.   We needed a little decor in my otherwise plain hallway.   I plan to put some baskets on the shelf for last minute items (keys, checkbook, coupon holder, receipt folder, etc).   The best part is that it is on wheels so I can easily roll it around for cleaning!
The next obstacle is to add some art to the wall above it and to decorate the top of the table.   I, of course, will continue to show you how this space evolves.
This project was completely FREEEE! Free TV cabinet, free paint from Dutch Boy, free knobs from an old project, free wood laying in my garage and free glaze and black paint I already had.   Woohoo!
So what do you think?   Was it worth rescuing?
Check out Mandi's e-book.   It is only $10 and well worth it to learn the tips and tricks of the trade of painting furniture.