Thanks for showing my new sponsor, For Love or Funny some lovin'. She truly enjoyed all your comments and bribery.
The winner of the Bonheur Knock Off Necklace is:
Rachel from
https://toadswildfamily.blogspot.com/
You have 24 hours to claim your prize.
If you are interested, you can still purchase one in my shop. It would be beautiful for that Christmas party you have coming up!
REMINDER: Next week is the Roadkill Rescue Party. Go get your trash on and rescue something!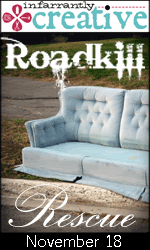 Get those projects done and come back here to link up on the 18th.
Here's the party plan…
1. The object you makeover must have been completely free to you, meaning you found it on the side of the road, in a dumpster, someone gave it to you, or Aunt Nelly died and left it to you in her will. YOU DID NOT PAY A DIME FOR IT…got it? Good!
2. You can use or buy other things to help fix it up (spray paint, embellishments, ribbon, fabric, etc).
3. You must have a before and after photo of it. You must have completed the project and not just pulled something out of the trash. Remember you are rescuing it to use it and give it a premier spot in your home.
4. You have to be a subscriber of Infarrantly Creative to win the prize pack (to be announced) but anyone can link up.
5. You must have the Roadkill Rescue button somewhere in your post or sidebar.
6. It doesn't have to be a new post, you can use an older post as long as it applies to rule #1.
I can't wait to see what ya'll come up with. You blew me away last time with your creative genius and eye for the original.