Today I decided to take on a project and make from scratch a quatrefoil mirror.   I have seen many in design magazines and love the graphic shape.   many catalogs such as Pottery Barn and Ballard Designs carry beautiful mirrors that I have been lusting over for a while.
Quatrefoil
The quatrefoil enjoyed its peak popularity during the Gothic Revival and Renaissance, but can still be seen on countless churches and cathedrals today. The quatrefoil is a symbol for good luck and where the four leaf clover originated from.
Before you think it is all exquisite and high end let me tell you how to pronounce it.
\ˈka-tər-ˌfȯi(-ə)l, ˈka-trə-\
Yep…it is pronounced "Catter Foil." Sounds more like it originated in the sticks than it's Greek origination. Although with the abundance of the design I think people are now pronouncing it "Quat RO Foil". That sounds way more sophisticated, don't you think? Ok enough with the history lesson.
I have seen gorgeous quatrefoil mirrors everywhere.
And I see them and say, "I waaaaaaaaaaaaaaaaaaaaaaaaant one!" In typical IC style I made one myself.
1. I had some 1/4" luan already cut to a 2' x 2' square. I love when life works out that way. But you can get a 2' x 4' piece ($5.47) at Home Depot and have them cut it down to size. I used some fancy tools to draw a quatrefoil. (I am saying it "quatro foil" right now 😉 Also known as a ruler and my dinner plates.
I also marked around the edges where the trim would go to make the alignment easier. After I was pleased with the design I laid it on two sawhorses.
Then I drilled some pilot holes with a large drill bit to make an opening for where the jigsaw would begin.
Then using a new scroll blade on the jigsaw I carefully followed my lines and cut it out. I cut the sharp squared off edges first and then I did the circle part last.
After about 10 minutes it was cut out.
Then I purchased $10 worth of baseboard molding… the faux composite kind. Using a miter box and saw I cut out molding to frame out my cut quatrefoil.
I just glued it on with some Gorilla Wood Glue and then weighted it down so that it would get a nice seal. I let it dry overnight and then used wood filler to fill in the gaps where the joints meet. I also caulked the edges where the molding met the luan plywood.
With a wet finger I smoothed the caulk so it would give it a seamless appearance.
After it was dry I sanded the wood filled corners smooth.
I primed and painted it Lake Champlain by Dutch Boy.
Then I used a black glaze and used Mandie's glaze tips to glaze my mirror. Check out her e-book available for $10.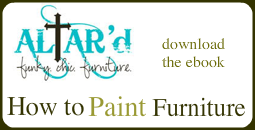 I flipped it over and screwed some hanging brackets on both of the sides.
I already had an old mirror that I cut to size myself. You can find freebies on Craiglist all the time. There are 4 free ones available in my city alone. Or you can get one for about $15 at a hardware store and have it cut. I cut mine 22" square so I would have an inch clearance all the way around. Then I used the Gorilla Glue Tape to secure it on the back.
Now you could glue your mirror on but I know myself. I have a HIGH need for change. What if I want to paint it yellow next week? It is easier to remove the mirror from the back then it would be to tape off the quatrefoil to paint it.
I wrapped some wire between the two silver hanging triangles I had secured to hang a wire on a screw in the wall.
Then I used some heavy duty anchors and secured it to the wall.I hung it above my "TV cabinet to console table." If you missed the transformation click here.
I know it looks dreadfully undecorated. But I want to take you along on the process with me. I am thinking of a tall skinny silver lamp, some fall decor, a couple of baskets on the shelf. Watch it unfold with me. Also I would love your advice on how to decorate the console. I am always open to vignette suggestions.
So what do you think? Do you love "Catter-foil" or what (spoken in a southern accent)?
    Check out the techniques I use when painting furniture by purchasing Mandie's e-book for $10.