Welcome to week two of the Pennywise Presents series. The new button is available on my sidebar. Just like last week I will feature four Pennywise Present tutorials and then on Friday you will get to show the world your ideas with our linky party.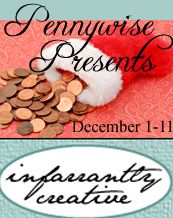 If you are just joining us, welcome! If you missed last week's projects click on the item below to see more…
Now my Pennywise series could not be complete without a paper bead project! I
LOVES
paper beads. They are so cheap and easy to make. For more of my paper bead projects click
here
and
here
.
Today we will make some festive Christmas tree earrings using paper beads.
This one I added some bling to with red glittered puff paint…
Supplies:
Scrapbook Paper
Dimensional Glaze (like JudiKins or Dimensional Magic)
Nylon Coated Wire (Beadalon)
Earring Wires (Darice)
Star Bead (I got mine at Joann's, they are Bliss Beads by Halcraft)
Small Square bead (I got mine at Joann's, they are Bliss Beads by Halcraft)
Glue stick
Pliers
Exacto Knife or Scissors
Optional: Red Glitter Puff Paint
1. Start by choosing your paper. I chose a piece that had Christmas trees on it already simply for the colors.

2. Cut two 1" x 12" strips. Tape those two pieces together so you have one long 1" x 24" strip. With scissors or an Exacto knife cut from the top corner of the strip to the opposite corner of the strip. This will form two triangles that are long right triangles.

3. With a toothpick and a glue stick start rolling up the paper bead keeping the bottom edge even gluing when needed. It will end up looking like this…
4. Follow this video tutorial to figure out how to finish the beads with the dimensional advesive.
5. It will be all shiny and purdy now. Get out your head pin, star bead, square bead and pliers. Thread the three beads on and make a loop with the pliers at the top to hang your earring. If you have never done that before here is a great video. EDITED TO ADD: There is a waaay easier way to do this…see video below.


6. Open the loop on the Christmas tree and attach your earring wire and close.
To see amazing creations with paper beads visit PaperBeads.org. If you are interested in purchasing some paper beads or paper beaded jewelry click on my sponsors.
Tell her I sent you and you will get 15% off your order.