Have you been to How Does She? If not, then let me be the first to introduce you.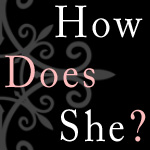 The three talented mommy bloggers behind this creative powerhouse site are Missy, Alison and Shelley.  I try not to be friends with women that are THIS much cuter than me…but I made an exception just for today to introduce you to them because their site rocks! 🙂
Missy, Allison and Shelley have eleven kids between the three of them (one is still cooking 😉 and run a blog in their spare time.  Their sites features crafty ideas, recipes, family traditions, storage ideas, fun things to do with kids and more.
My very favorite of all of their ideas is all the fun stuff they make out a simple 2×4.  Click on the pictures to go to the tutorials…
This is the most awesome ABC display for a kid's room or a playroom ever!  I want it.  They make me covet for a vinyl cutting machine.
Do you want an adorable way to let guests know your house is a "no shoe" zone, look at this project below…
I have just touched the surface of all this site encompasses.  If you like my site you will LOVES theirs.  Stop over to How Does She?, you will thank me later.