Hello peeps I have a special guest here today at Infarrantly Creative…meanwhile I have hit the road and traveled all the way to Utah to blog over at Blue Cricket Design. Come check me out over there!
Hi there! I am Becca and I'm am happily visiting from Blue Cricket Design! Beckie and I became fast friends once we figured out we were both "tell it like it is" sort of gals! (WINK WINK!!) It's an honor to come and play in her sand box. I feel talented just being here!
I'm a mom, wife and lover of Mint Oreo's. I have a hard time passing up thrift stores and everything calls to me begging to be turned into something special! I love to sew, bake, photograph and discover new ways of expressing myself.
I'm excited to share a little project I came up with after figuring out a new way to use an old collection.
I hit the jack pot at my local thrift store and came across a huge selection of vintage patterns. I bought each pattern for a quarter and had the perfect project in mind. The adorable illustrations on the envelopes would make darling greeting cards.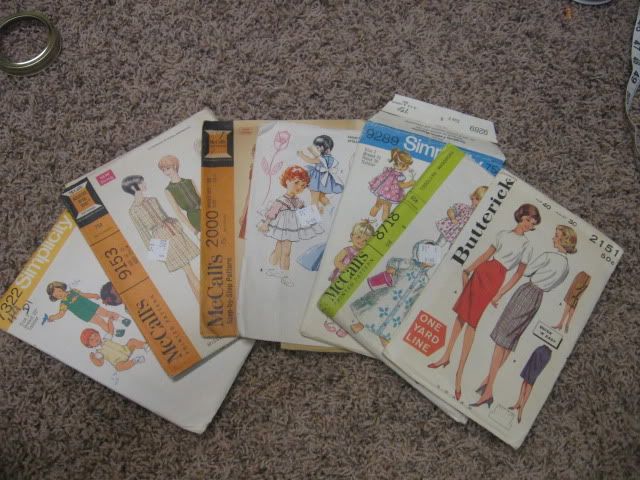 After finding a nice selection of patterns, I carefully cut out the images. I like to make color photo copies of mine so I can make multiple cards using the same image.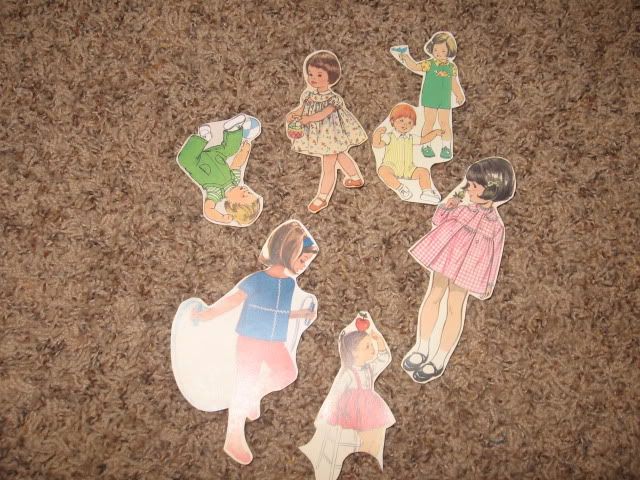 I cut out the images and pasted them on top of retro scrapbook paper and added a clever message that I had typed on my computer and printed out.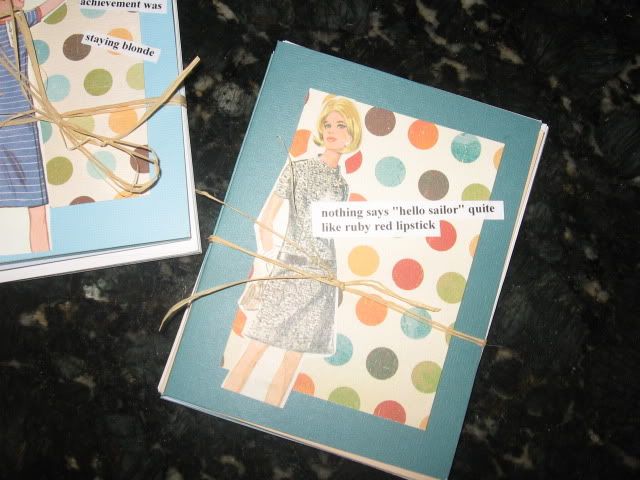 Here are some of the messages I used on the lady cards:
– Here proudest achievement was staying blonde!
– I only have a kitchen because it came with the house.
– Nothing says" Hello Sailor" quite like a ruby red lipstick.
– Someone was going to have to set a bad example!
– If you want breakfast in bed, then sleep in the kitchen.
– High maintenance doesn't even begin to cover it!
And for cards with little kid pictures on them:
– I child proofed my house but they still get in!
– Wow! I get to give birth and change diapers!
– Be nice to your kids! They choose what nursing home you'll be in!
– What if the Hookey Pokey is what it's all about!
I love these cards for a few reasons…
1. I'm old fashioned! There is nothing like finding a hand written note waiting in your mailbox!
2. Repurposing is one of my favorite ways to create. Recycling and creating something useful… SCORE!
3. I've been told I'm old soul. I'm drawn to retro and vintage things.
I'd love for you to come see what else I've created over at Blue Cricket Design!! My creative blog is a collection of my craft projects, sewing tips, recipes, tutorials, giveaways and more. Mark your calendars, I am hosting a "Giveaway A Day" Event November 2nd-6th! Five amazing giveaways are waiting to be won.

Thanks Beckie for letting me take over. I hope you had fun over on my turf!