Did you know that it's scientifically proven that
creating something makes you less stressed?
Okay, I totally made that up, but I swear it's true.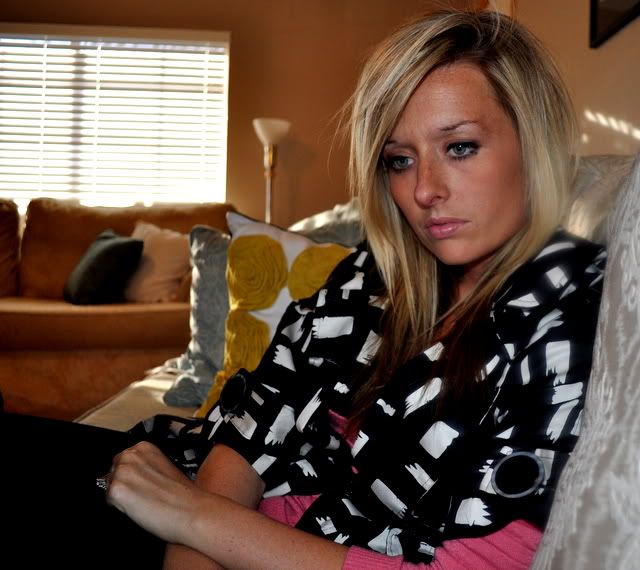 I'm Ashley from The Shine Project, This is me grumpy.
Just home from a rougghhh day at work, and on to my endless homework.
I started to throw myself a pity party.
It lasted about 3 seconds, and then I decided I was going to make something.
So I did.
I'll pass along this delicious recipe for you to pull out in times of pity parties 🙂
You'll need:
1. Hot glue gun
2. Felt square
3. Fabric
4. Necklace chain
1. Cut out two 1.5 inch circles from your felt, and one 2 inch circle.
2. Use those circles as tracers to cut out A LOT of circles from your chosen fabric.
3. Lay out your felt circles. and   Fold your fabric circle in half and then in half again   pinch a piece of your fabric from the bottom of it. It should look like the picture above. (Here's where my tutorial pics start to slack because I literally hot glue-gunned my finger)
4. Put a drop of hot glue on the fabric, and stick it to the felt.
5.Repeat until all of your felt circles are filled…and you should end up with something like this:
6. Flip your flowers over and hot glue your necklace chain to them. Place another layer of felt over the chain so the chain is covered in the back.
AND YOU'RE DONE!
I have a new rule.
Anytime I am really grumpy, I am going to take a break and go make something.