If you are looking for the Pennywise Presents Party scroll down below…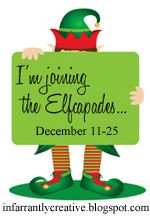 Who else in joining me? I would love to know if you purchased a Magic Elf or if you are using another elf and are joining along in the fun. Please leave me a comment and let me know.
Hello everyone. Today Ollie arrived to meet Isaac. I took a picture of the scene for you. He left a note and a present all wrapped up just outside Isaac's bedroom door so it would be the first thing Isaac saw in the morning.

Here is what the note said…
Hi Isaac my name is Ollie. Santa got the note you sent him asking him to send an elf. And guess what? HE SENT ME! Santa heard you have been a good boy this year and he can't wait to bring you three presents on Christmas Day. In fact, I even helped Santa in his shoppe to make your toys!
The reason he sent me was to remind you the true meaning on Christmas — the birth of Jesus. So everyday I am going to tell you a little bit more of the story of Jesus.
You get to play with me all day long and then at night you have to put me in my little pouch and sprinkle me with the North Pole Snowflakes. Also don't forget to leave me some crackers and water at night. That is what us elves eat. Why crackers and water, you might wonder? The crackers sound like crunching snow, and the water is melted North Pole Snowflakes.
At night I get a little crazy and I will do fun things all over your house. I might even leave you some gifts or candy. It will be such fun for you to find me every morning. It is kind of like hide-n-seek. And I KNOW YOU LOVE hide-n-seek.
Oh I almost forgot…let's begin the story….
Once upon a time, a long, long time ago there was a girl named Mary. God loved her very much. He sent an angel to visit her. The angels name was Gabriel. She was scared at first but then Gabriel said not to be afraid because He was sent from God. Then he told her she had a baby in her belly that she was supposed to name Jesus.
Isaac was FREAKING out. He folded up the note and carried it in his pocket everywhere he went today. He wanted to sprinkle him with the Magic Snowflakes during his naptime. I assured him Ollie would not do magical things until it was dark outside. This is going to be so fun. The anticipation is boiling over in my little boy's heart.