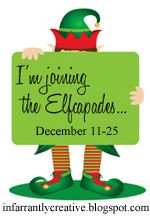 Here is today's note…
Hi Isaac! I am so dizzy from hanging upside down yesterday. You really thought that was funny huh? It looked like you liked the fruit basket I got for you to play with in your snack shop.
Ok I am going to tell you a little bit more of the story of baby Jesus and then I will give you the clue…
After baby Jesus was born there was some shepherds looking after their sheep on the hills near Bethlehem.  Suddenly the sky shone bright with light.  Don't be scared, said an angel, "Go to Bethlehem, there you will a baby who is Christ the Lord."
Here is the hint for the day…
I like things that are shiny and bright with lights. I am up really high. Can you find me?
Ollie had climbed all the way on top of the star on our Christmas tree.  Silly Ollie!