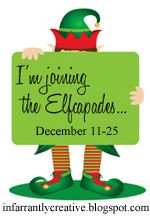 Good Morning Isaac! That was a long trip to Grandpa and Grandma's house. I had fun watching movies with you on our ride there. Your Grandpa and Grandma are very fun. Thanks for introducing me to them. I really like Uncle Aaron, Aunt Jennie and cousin Eli too. You have a wonderful family. It looks like you are going to have a very fun Christmas. I am very sad to have to leave you. You have become my best friend. Thank you for all the fun we had!
Do you remember what I told you was the reason why I came to visit you? It wasn't just for all the fun and hiding. It was to remind you about the birth of Jesus and to remember to keep Jesus as the focus this season. I know it is hard with all the presents, cookies and decorations. But it really is all about Jesus' birthday and the gift that He is to all who believe.


I have one last hint…


You need to come find me quick. I am cold. Brrrr! I accidentally fell in my water. Where am I?