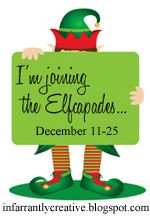 Good Morning Isaac. Are you ready for your long car drive to go see Grandma and Grandpa? I can't wait to meet your Grandparents. I heard they are so fun. Christmas is just two days away. I only have one more day with you and then Santa is coming to get me to take me home.
Let's try and memorize a verse about the story of Jesus.
Isaiah 9:6 "God has given a son to us" 
Do you think you can memorize that Isaac?
Here is my hint for the day:
Since this is the last night I am going to be at your house. I really wanted to see what it was like to sleep in your bed. And since you have not been sleeping in this bed lately. I decided to sneak into your room and rest my little head. Come find me.
Here is Daddy reading the note to Isaac…