Beckie has agreed to let me take over for a day, and I am sooo stinkin' excited to be her new friend! My name is Brooke from over at All Things Thrifty! Beckie and I are soooo much alike and when I saw her style, I was shocked at how similar she is to my own! How fun! I feel like I've found a long lost friend!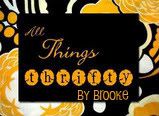 My site All Things Thrifty is very similar to Infarrantly Creative. I love how Beckie uses color because I'm a HUGE fan of color myself. I love to refinish furniture, thrift shop, reupholster, and my main focus is to prove that decorating can be inexpensive! I am a mom of three great kiddos who keep me busy. Oaklyn, my seven year old second grader is my red-headed beauty, Connelly, my six year old kindergartner is calm as can be, and Londyn my two year old blondie loves to sit on my lap while I type! I'm expecting our fourth kiddo (another boy) in January, and I've been married to my sweetie for almost nine years! I thought it would be fun to show you a few of my favorite projects to give you a bit of a preview of what All Things Thrifty is all about. Over the last year, one of my favorite things I have learned is how to reupholster furniture. I found this double wingback chair at the local thrift store for only $25.00! Check out the details of her transformation HERE!
Before:
After:  Didn't she turn out fun!?!?
My hubby and I created this fabric headboard and were so excited with the end result. I provide instructions on how to create this bad boy in THIS POST.
We just finished one of our biggest projects EVER by refinishing a piano! I was super nervous, but it turned out better than I thought! Here is the before picture. I got this bad boy on Craigslist for only $50.00!
And Viola! Here she is after her makeover.
To see the details on how to refinish a piano, go HERE. And lastly, I had so much fun making pillows for my spare room out of a tablecloth from Target! I even made the window valance in this room from a clearanced table runner from Pottery barn! I love doing things the thrifty way! Check out this room HERE. 
Thank you Beckie for letting me take over for a day. What an amazing site you have over here at Infarrantly Creative! I know I am speaking for a lot of people out there who are SO grateful that you so willingly share your talent with us! Thank you for the inspiration and ideas!