Do you want to paint furniture like a professional? Mandie from Altar'd Furniture wrote an e-book that will tell you all the tricks and tools that she uses in her business.  Mandie operates a very successful painted furniture business in Texas.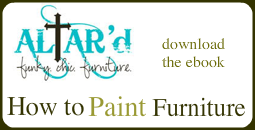 I read through the entire book word for word and I highly recommend it.  She uses the exact same products that I use and so it is easy to endorse.  But her techniques for creating the glazed, chippy look is what is worth its weight in gold.
You can paint furniture like her using her tried and true techniques. Look at her impressive portfolio…
For $10 you can get her secrets and step-by-step real, correct processes to paint furniture.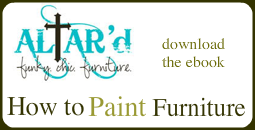 this is an affiliate link