The front door is prime real estate when it comes to seasonal decorating. It is the perfect place to have a little fun and be creative. We could all undoubtedly pull our spring wreath from a box to hang on the door, but why not try something a little different this year? Today's post focuses on five ways to decorate your door for spring.
1. Umbrella Door Candy
I am loving the originality of this umbrella door candy by Pamela from Be Colorful. It contains elements of spring with the umbrella representing April showers and the flowers and eggs signifying new life. Not to mention it is vibrant and full of color. Perfect for turning your neighbors' heads!
2. Square Wreath with Bunting
Leanne from Organize Your Stuff Now has a love for square wreaths (but not the expense), so she made this spring wreath for only $1.60. She wrapped yarn around some foam core board and then added flowers with twine centers, a triangle bunting, and a ribbon hanger. I am loving these details and the combination of different textures.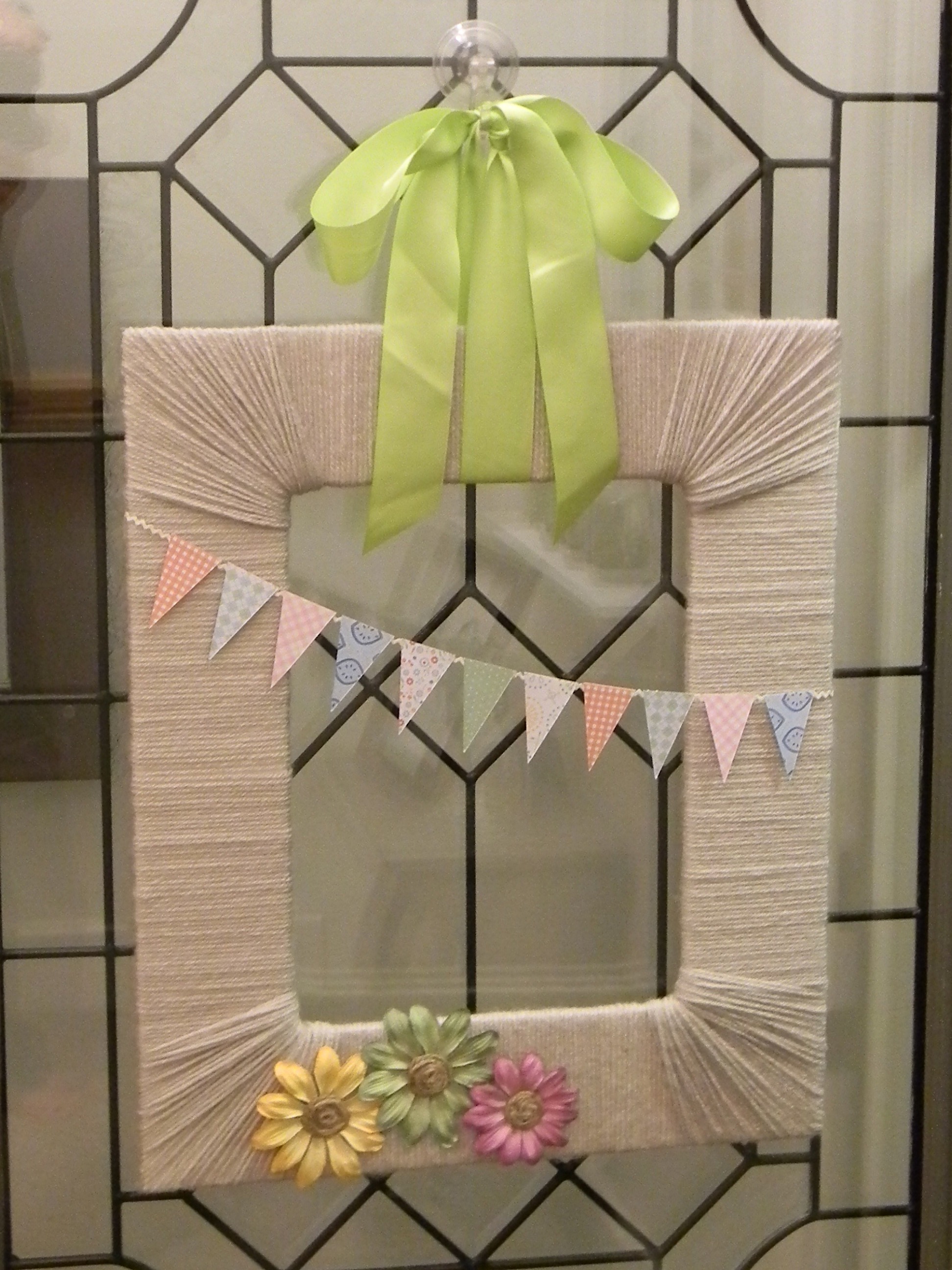 3. Spring Frame with Monogram
Jenny from Blue Sky Confections created this personalized spring frame for her front door. Jenny tightly wrapped the 'K' for their family name in jute. She added a couple more subtle personal touches by fashioning two birdies from clay for both her and her husband and placing three eggs in the nest for her three precious bambinos. I love the fact that this piece is a representation of their family.
3. "Welcome Spring!'" Door Hanger
Amy from Naptime Crafters created this burlap door hanger to welcome in spring and warmer weather. Using freezer paper to create a stencil, she painted on the lettering and the branch. She then added the fabric bird and leaves by sewing them in place with embroidery floss. So cute! I love little birdies.
5. Plaid Ribbon Art
Allison from A Glimpse Inside wove together bright, colorful ribbons to create this fun spring plaid background. She finished it off with a monogram and a ribbon hanger. Although Allison used this piece to fill a blank spot on a decorative shutter in her house, it would make super cute spring door décor.
How do you dress your door up for spring?
Thanks for visiting "5 Ways Saturdays!"