One thing I absolutely love about warmer weather is spending time outside. Instead of being cooped up in the house, the kiddos can get out and play on the trampoline and swing set and hubs and I can kick back on the UH-mazing deck we built a couple summers ago. While many of us spend ample time decorating and perfecting the interior of our homes, we don't give the same attention to our outdoor living space. Since summertime equates to lots of outside time, this is the perfect opportunity to spruce up your home's exterior. Today's post features five ways to decorate outdoors.
1. Fabric Windsock Garden Lantern
Whether you're just kicking back with family or entertaining friends, this fabric lantern from Jan at Daisy Janie is perfect for evenings out on the patio. I love how the soft glow shows through the pattern of the fabric, creating a relaxed, cozy ambience. During the day it will also add some color and style to your yard.
2. Trellis Flower Box
Jess from Frugal with a Flourish shared her trellis planters at Pretty Handy Girl. Faced with a teeny tiny patio, Jess decided to turn it into a cozy book nook. Believe it or not, this was actually her very first building project. It looks like she got an A+ to me! I really love the fact that these planters provide a little bit of privacy too. No one likes sun bathing with spectators!
3. Travertine and Moss Chess Table
Danielle from Amber Lane Living was inspired by an HGTV tutorial to create an outdoor chess table for her patio. After building a base, Danielle filled it with potting soil and then topped it with travertine and moss squares to form the chess board.  Although her visions of spending weekends on the patio playing chess and drinking coffee have yet to come to fruition, she at least has a totally unique table for her front porch.
4. Clay Leaf Planter
K from Vintage Skye created her own Pottery Barn clay leaf planters for only $5.00. She simply made her leaves from oven bake clay and then glued them onto a basic terra cotta pot. She layered paint mixed with antiquing medium to achieve the aged look. A coat of waterproof sealer and this leafy planter is ready for its outdoor debut!
5. Hanging Coffee Cup Herb Garden
Stephanie Lynn from Under the Table and Dreaming used metal camping mugs to create her own hanging herb garden. I have totally been wanting to start an herb garden this year, so I am loving this idea. She even added little stakes with the names of each herb stamped on so they could easily be identified. This design is a space saver too if you have limited patio space.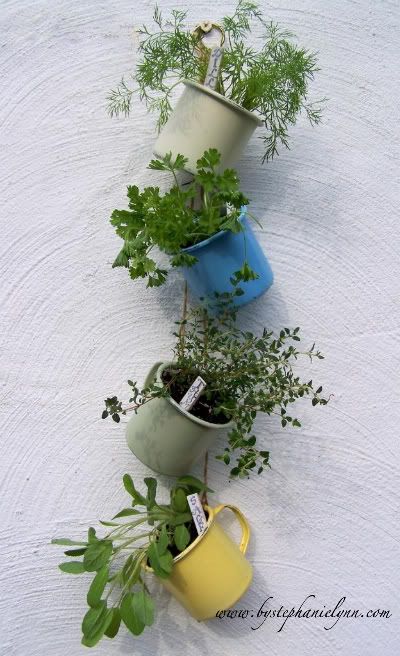 How do you add some decorative touches to your outdoor space?
Thanks for visiting "5 Ways Saturdays!"