Hi!   We're Candace & Nicole and we're over visiting from Crafty Sisters!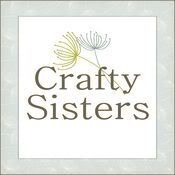 We are so excited to be guest posting here at Infarrantly Creative!When Beckie invited us over to share a fun tutorial with you all we knew we had to find something great and of course try our hand at a good Knock Off!
We love catalogue furniture but don't love the prices! So we figured if we put our heads together we can come up with something pretty close….not to the price tag!;)
We've been eyeing over these pretties from Pottery Barn for a while now, not only are they cute but they'll keep our little kiddos busy!
Look close….can you see the difference?
(image source Pottery Barn Kids)
These bad boys go for $169 a piece, yup each, so that would be a grand total of $676 for 4. Let me go grab my wallet……
Yeah. So here's where we started. We printed off the picture and tried to measure them to scale. If you don't own a quilting ruler, go get one, they are so useful!
Knowing the size wood comes in is helpful, it made it much easier to figure out the dimensions to make the most of what we needed to get.
We started with 7 2×4 foot 1/4 inch MDF boards.Home Depot was so good to cut everything out for us, 2 of the boards were cut into 3″ slats,1 was for the house tops and the 4 remaining were for each house base.
Each school house was 48″ high except for the red one so we modified the pattern to maximize the use of our boards.
We made a pattern, traced them out and started cutting.
All you need is a jigsaw, a drill, some nails, paint, adhesive and sand paper to put these together.
We made the top portion 11 inches high. Side slats were cut at 35 inches, the bottom was 24″. We used some 1×2″ trim moulding for the chalk tray at the bottom. It's easier to be exact with the roof line by layering the top piece, gluing it to the main house and then cutting it exactly. Less cuts, nicer finish.
Each house was then either inlaid with dry erase board, cork board, or painted with chalk board paint.
We also found a roll of white craft paper to hang from a dowel that
was held on by little corbels we made that attached to the base.A little liquid nails holds everything in place and spray adhesive worked great for the cork!
We attached "d" rings to the back for easy hanging.
All these things can be found at your local craft and hardware store.
Spray painting in cold weather isn't fun. It stinks.   Literally. We're hoping the hubby doesn't notice the over spray of red on the garage floor.:) We had to make one in pink for Nicole's daughter to display her artwork and to organize her jewelry!
Candace's boys didn't need any coaxing to try them out either!
These were pretty fun to make and actually pretty easy but more importantly our kids love em'! Plus our grand total was just over $75. That's total….for 4!
Thanks for having us Beckie and for inspiring us with your love of knock off projects! Come craft with us and be sure to check out our other fun projects!